"A riot is the language of the unheard." -Martin Luther King, Jr.
"Love is the only force capable of transforming an enemy into friend." – Martin Luther King, Jr.
2020 will be remembered as the year that the world caught on fire. It started with the bush blazes in Australia, escalated to the pandemic and now seems to have reached even greater heights with the amplification of racial disparity and unrest. Marginalization, focused oppression, racial profiling and discrimination are absolutely unacceptable.
I am in a privileged position as a white male of influence and prosperity to be able to walk down a street and not worry about being pulled over or assaulted purely because of the colour of my skin. It is something I don't take for granted.
And before we start patting ourselves on the back that our country is different than our neighbours to the south, we should remind ourselves of what is taking place here in Canada. Our Chinese community being targeted in the wake of COVID-19 pandemic, there is inequity in health care access and health outcomes of marginalized communities, and the racism experienced by our Black and Indigenous citizens. 2020 UofT Medical School class valedictorian Dr. Chika Oriuwa reading an online comment about her that said "I would never let her treat me" after she was profiled by the Toronto Star and many other publications as being the only black student in a class of 259. If you haven't seen her Valedictorian address, I highly recommend you take a look:
We have a long way to go. But I am encouraged that subsequent MD classes have 14 and 15 Black students, respectively, and that the incoming MD class of 2024 has 25 Black students. And hopefully some of those students will develop an interest in plastic surgery and successfully enter our training program.
I like this quote.
"If you think you're too small to have an impact, try going to bed with a mosquito in the room." – Anita Koddick
And.
"Never doubt that a small group of thoughtful committed citizens can change the world: Indeed it's the only thing that ever has." – Margaret Mead
We, as individuals and as a group, can't stay quiet about this.. Speak out when you see injustice.. Grieve with those who have lost loved ones. Recognize that there is a disparity in our society and work to address and change it. Here are some specific and actionable things you can do: https://medicine.utoronto.ca/oid-statement-solidarity-resisting-anti-blackness.
We must do the work.
Stay healthy and safe.
Best wishes,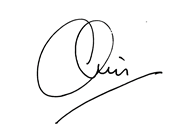 Christopher R. Forrest, MD, MSc, FRCSC, FACS
Chair, Division of Plastic and Reconstructive Surgery
Chief, Division of Plastic and Reconstructive Surgery
Medical Director, HSC Centre for Craniofacial Care and Research
Department of Surgery, Faculty of Medicine
University of Toronto