The Royal College has embarked upon a multi-year program to plan, develop and implement competency-based medical education across the lifelong learning continuum. Competence by Design (CBD) will result in changes to Royal College assessment processes, including credentialing and examination.
For example, assessment will no longer be done at the conclusion of time-based training; it will instead be a continuous process throughout the resident training period. The change of focus requires a shift in assessment policies, which have been predicated on a traditional, time-based residency system.
In response to this change, Residents in traditional time-based programs will continue to follow the Policies and Procedures for Certification and Fellowship, which can be found on the Royal College website: www.royalcollege.ca
THE COMPETENCE CONTINUUM reflects the developmental stages of professional practice (See Figure 1 below). In each stage, there will be specific milestones that a resident will be expected to demonstrate. The duration (e.g. weeks, blocks, months) for each stage is being determined by each specialty as part of their cohort plans for implementation of CBD.
The first stage for residents is

Transition to Discipline

that will include an orientation to and demonstration of readiness for the autonomy of residency education.

Foundations

, the second stage of the continuum of residency education, is when the basics, including the most common and frequent patient problems of the specialty, are taught, learned, assessed and demonstrated.

Core

is the third stage of the continuum of residency education where the patient problems are increasingly complex and complicated and where the more rare patient problems are managed. It is anticipated that in the future the specialty exam will be administered near the end of the Core stage.
The fourth and final stage of residency education is

Transition to Practice

, which focuses on ensuring residents' confidence and competence to practice within their discipline.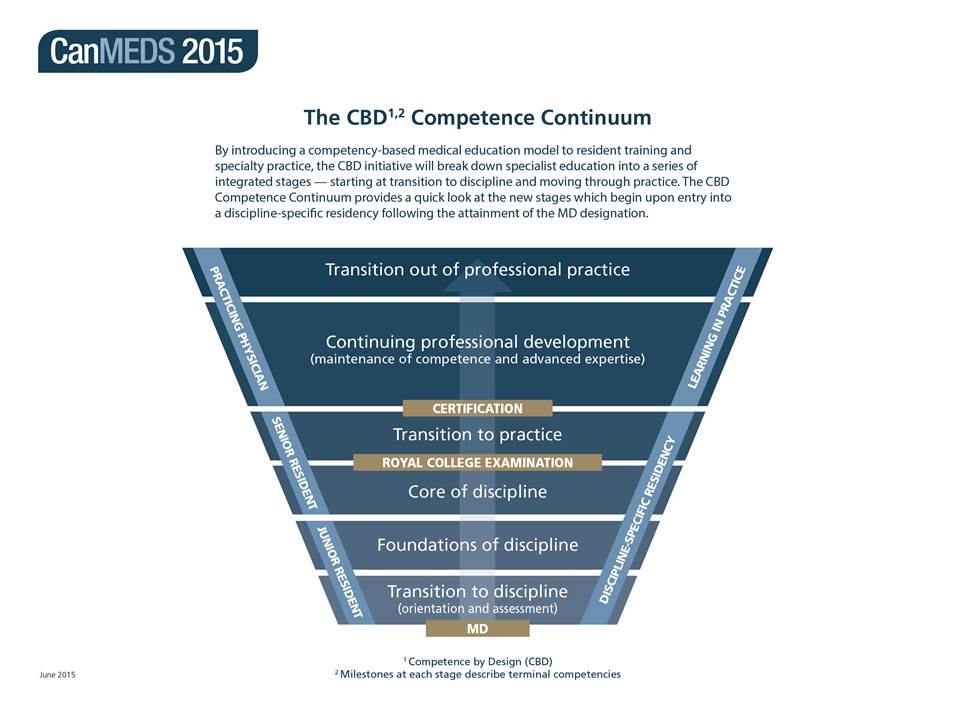 Figure 1
ENTRUSTABLE PROFESSIONAL ACTIVITIES (EPAs) are an approach to competency-based medical education (CBME), which focus on 'real' clinical activities that are carried out in day-to-day practice.1 Learners, teachers and assessors will focus on concrete critical clinical activities that provide Insight to the residents' development, progress and proficiency.
The notion of 'trust' is not new to residency education as, each day, faculty members decide which Patients or patient problems they assign to which residents. The aim of EPAs is to provide consistency to when, how and where specific activities of a discipline are taught, learned and assessed.
For example, in the Orthopaedic Surgery competency-based program, the 5-year training program has about 20 modules completed over 3 phases (i.e. basic, advanced, complex). To be successful in each module, learners must demonstrate that they have the required knowledge (e.g. via written test), skills and abilities (e.g. via observed history/physical and the observed completion of a surgical procedure). In the Orthopaedic Surgery program, their 'index' cases or EPAs are those that reflect increasing mastery of their discipline.
RC-ENTRUSTABLE PROFESSIONAL ACTIVITIES is the Royal College approach to EPAs. For the implementation of CBD, each specialty program must develop a list of important activities, which residents need to learn and perform. Example RC EPAs are: 'run a code', 'do procedure X', 'lead a meeting with a patient and their family disclosing serious news'. As well, each discipline Is working to identify specific RC EPAs which teachers/faculty will "sign-off" on after direct observation, thereby entrusting that the residents will be able to perform the act independently.
REQUIRED TRAINING EXPERIENCES is a new Royal College document that is being developed for each of the programs transitioning into Competence by Design. This document includes the eligibility requirements for the discipline as well as the training experiences that are required or recommended for each of the 4 stages of the residency education competence continuum.
1 Ten cat. O. and F nun. 20971. Competency-Based Postgraduate Training: Can We Bridge the Gap between Theory end Clinical Practice? Academic Medicine, Vol. 82, No. 6
For more information, visit http://cbme.postmd.utoronto.ca/