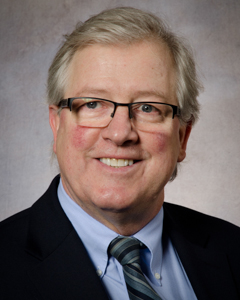 Dr. Steven J McCabe, MD, FACS
Assistant Professor Department of Bioinformatics and Biostatistics
School of Public Health and Information Sciences
University of Louisville
Steve was born in Loring, Ontario, Canada and grew up in the small farming community of Dresden, Ontario. He spent his first 16 years planning a career in the National Hockey League. In high school, he enjoyed mathematics and thought about pursuing engineering, but was advised by his high school counselor, hockey coach, and mother to be a doctor. He graduated with a medical degree in 1980 from the University of Toronto and finished residency training in Plastic and Reconstructive Surgery four years later at the University of Western Ontario under the guidance of Robert MacFarlane. At Western, he developed a love for Hand Surgery and further trained at the University of Toronto with Jim Murray, and The University of Louisville, where he notes Harold Kleinert and Tsu Min Tsai were influential in his development. Returning as a faculty member to The University of Toronto for four years before moving back to Louisville to work at the Kleinert Institute and UofL in 1992, he has divided his energy between academic pursuits and the clinical practice of hand surgery. While working in Toronto, Steve studied at McMaster University in Hamilton Ontario, receiving a Masters of Science degree in Clinical Epidemiology, something he claims to have undertaken at the "suggestion" of Ralph Manktelow. He credits this degree with changing his life and bringing clarity and focus to his aspirations.
Steve's interest has gravitated to the study of hand surgery from the perspective of the population. This has pointed him in the direction of carpal tunnel syndrome, an illness he claims to be the most fascinating upper extremity problem. He currently practices hand surgery at Louisville Arm and Hand, has a clinical appointment in the Department of Orthopaedic Surgery, and is the Director of Decision Science at the School of Public Health and Information Sciences at the University of Louisville. In 2007, he was awarded the University's Distinguished Teaching Medal for his efforts. He is also active in the ASSH, AAHS, and is a Past President of the ASPN.
Dr. McCabe lives in Louisville, KY with his family. His oldest daughter has recently graduated from Queen's University and his two younger children, Robert, and Meghan are in high school in Louisville. His hobbies now include reading and writing, walking with his wife Janette, and playing the violin (badly). He has recently retired from ice hockey, finishing his career in the men's B league at Iceland Hockey Arena.