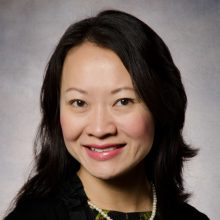 Toni Zhong
MD, MHS, FRCS(C)
Surgeon-Investigator
Surgeon Scientist, UHN - TGH
Belinda Stronach Chair in Breast Cancer Reconstructive Surgery
UHN Clinical and Research Director of the UHN Breast Reconstruction Program
University of Toronto Associate Professor, Department of Surgery and Surgical Oncology
University of Toronto Fellowship Director, Division of Plastic, Reconstructive & Aesthetic Surgery
phone
(416) 340-3858
fax
(416) 340-4403
assistant
Francisca Castro
hospitals and rotations
Mount Sinai Hospital, UHN: Princess Margaret Hospital, UHN: Toronto General Hospital
practice location

UHN Toronto General Hospital
8NU - 871, 200 Elizabeth Street
Toronto, ON M5G 2C4
subspecialty(ies)
Breast, Microsurgery
Dr. Toni Zhong, is a graduate of the Plastic Surgery Residency Training Program at the University of Western Ontario and became a Fellow of the Royal College of Physicians and Surgeons of Canada in 2007. Following the completion of her residency, Dr. Zhong was awarded the Zeiss Canada Microsurgery Scholarship to pursue a year-long Microvascular and Reconstructive Surgery Fellowship at Memorial Sloan Kettering Cancer Center in New York City. She was recruited to join the Division of Plastic and Reconstructive at the University of Toronto in November 2008. in 2011, she obtained her Masters of Health Sciences in Clinical Epidemiology from the Harvard School of Public Health.
Dr. Zhong is an Associate Professor in the Department of Surgery at the University of Toronto, and the inaugural Belinda Stronach Chair in Breast Cancer Reconstruction at University Health Network (UHN). She is the Fellowship Director for the Breast Reconstruction Fellowships Program, and the Fellowship Director for the Division of Plastic and Reconstructive Surgery at the University of Toronto. She is also the Clinical and Research Director for the Breast Reconstruction Program at UHN and Mount Sinai Hospital, leading centres for advanced techniques in breast reconstruction in North America.
To complement her clinical expertise in the field of breast reconstructive surgery, her research aims to improve the access of women to optimized techniques of post-mastectomy reconstruction through clinical trials and health services research. In 2012, she was awarded the prestigious 2012 Career Development Award from the American Society of Clinical Oncologists. She holds a five-year Canadian Institute for Health Research (CIHR) grant and leads a national team to examine barriers to breast reconstruction surgery across Canada. She was also awarded the highly competitive CIHR New Investigator Award in 2015. Recently, she was appointed as the Provincial Lead in the development of clinical guidelines to set new provincial standards for breast cancer reconstruction in Ontario. She currently has over 80 peer-reviewed publications in high impact oncology and surgical journals, holds 5 active national level research grants, and numerous Canadian and American Plastic Surgery Foundation Funds.
Dr. Zhong is also active in humanitarian activities. She is one of the founding members of Reconstructing Women International, a non-profit international humanitarian organization and annually leads international surgical teams overseas. She is a co-founder the UHN Helps Fund, a humanitarian fund to support patients from developing countries to receive their life-saving or life-enhancing surgeries at UHN. To recognize her volunteerism, she was awarded the Dean's Alumni Award in Community Service from University Of Western Ontario in 2018. For her outstanding research work to improve access to breast reconstruction across Canada she was awarded the Dr. Robert Zhong, Department of Surgery, Research Award, Western University, 2019.