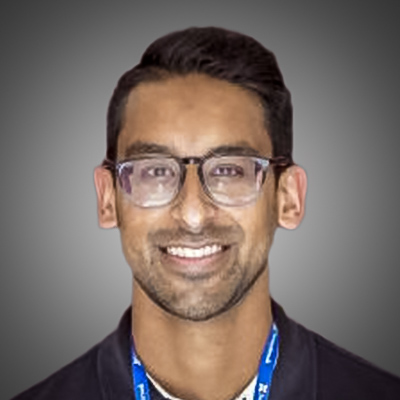 Ryan Paul
MD, FRCS(C)
Surgeon-Investigator
Assistant Professor
phone
(416) 603-5839
fax
(416) 603-5392
assistant
Jhanna Bermudez
hospitals and rotations
UHN: Toronto Western Hospital, Women's College Hospital
practice location

Toronto Western Hospital
399 Bathurst Street
East Wing, 2nd Floor, Rm. 400
Toronto, ON M5T 2S8
subspecialty(ies)
Hand, Peripheral Nerve, Trauma
Ryan is from Mississauga, Ontario. He attended undergraduate training at McMaster University, obtaining a Bachelor of Health Sciences. He went on to complete medical school at the University of Western Ontario and orthopaedic surgery residency at the University of Alberta.
Following residency, Ryan completed a clinical fellowship in hand and upper extremity surgery at the Roth | McFarlane Hand and Upper Limb Centre in London, Ontario. During fellowship Ryan worked with a number of nationally and internationally renowned orthopedic and plastic surgeons. Ryan went on to complete a sports medicine fellowship at the University of Toronto working at Sunnybrook Health Sciences Centre, St. Michael's Hospital, Women's College Hospital, and the University Health Network. During that time, Ryan developed further skills in management of complex soft tissue injuries and advanced arthroscopy. In addition, Ryan assisted in the care of amateur and professional athletes including the Toronto Marlies, Raptors 905 and Toronto Raptors.
Clinically, Ryan's main focus is the management of injury and disorders of the hand and wrist. Much of his practice revolves around traumatic and post-traumatic wrist reconstruction including athletic injuries, fractures, deformity correction and arthritis. He also has an interest in managing complex upper extremity conditions including tendon transfers and joint reconstruction in patients with congenital and acquired peripheral nerve injuries and rotator cuff pathology.
Ryan is currently completing a Master's of Science at the University of Toronto with a focus on the management of pseudoparalysis due to massive irreparable rotator cuff tears. He is also interested in optimizing health care access and clinical outcomes among patients with ambulatory hand and wrist injuries, particularly distal radius fractures. In addition, he is engaged in developing new and innovative models of care in the interdisciplinary management of patients with brachial plexus disorders.