"you don't know what its got till its gone" (Joni Mitchell, Big Yellow Taxi, 1969)

"It's snowing still," said Eeyore gloomily.
"So it is."
"And freezing."
"Is it?"
"Yes," said Eeyore. "However," he said, brightening up a little, "we haven't had an earthquake lately."
― A.A. Milne
Happy New Year everyone! For those of you in the GTA living north of Bloor Street who are reading this, you will understand how much we take for granted in our lives. The simple concept of flipping a switch and expecting the light to come on, anticipating hot coffee in the morning or a hot shower is something we rarely pay attention to. That is, until it doesn't happen. So it was a rude shock to wake up on December 22nd to freezing cold and seeing your breath while huddling under the sheets. The scene outside was a combination of mayhem and beauty. Glistening cathedrals of ice and downed trees, deserted roads and the sounds of cracking and crashing everywhere. $75M in clean-up and 10 days later, things are getting back to normal. Although the Great Toronto Ice Storm of 2013 ended the year with a bang, it pales in comparison to what weather did to other parts of the globe during the past 12 months.  Typhoon Haiyan in the Philippines, the flooding in Calgary, storms across the mid-west US are examples of the potential for unexpected devastation and disruption of lives. Fortunately in Toronto, things got back on track pretty quickly but winter is far from over.  Anyhow, the experience of being without power for a few days certainly reinforced how grateful I am to have it back on.
So it is that time of year again… after the hustle and bustle of the season, parties, commitments, last minute shopping and sudden realizations of people forgotten from lists, a time to reflect on the year that was and what is to come. I would say it has been a great year for our division and we have accomplished some important milestones over the last 12 months. As always, I am immensely proud of the quality of work that we do as a group and the footprint that our division has around the globe. In keeping with tradition, here is my best of 2013!
Top Ten for 2013:
A successful Royal College Review for the Division of Plastic and Reconstructive Surgery.
Six for six: Successful graduation and completion of the Royal College exams for our senior residents: Dr. Saad Alqahtani, Dr. Karen Cross, Dr. Kunaal Jindal, Dr. Ron Somogyi, Dr. Roberto Tutino and Dr. Jing Zhang.
Awards for the division: Dr. Marc Jeschke – George Armstrong Peter's Prize given to a young investigator who has shown outstanding productivity during his/her initial period as an independent investigator, Dr. Siba Haykal for First Place for the Gallie Bateman Award in Surgical Research for her spectacular research on tracheal allotransplantation, Dr. Heather Baltzer who has been awarded one of ten Novartis Oncology Young Canadian Investigator Awards, Dr. Ron Somogyi who is this year's recipient of the D. R. Wilson Teaching Award, given in recognition of outstanding effort in education and Dr. Ron Levine as this year's recipient of the Charles Mickle Fellowship.
Surgeon Scientist grads: Dr. Siba Haykal (PhD, Supervisors Drs. Stefan Hofer and Tom Waddell) and Dr. Jennica Platt (MSc, Supervisors Drs. Toni Zhong and Nancy Baxter).
A great showing for the University of Toronto team at the Canadian Society meeting in Calgary in June winning the FM Woolhouse Award (Dr. Heather Baltzer), Educational Foundation Award for the best Epidemiology & Biostatistics Presentation (Dr. Jennica Platt) and best GAM paper (Dr. Olivia Ho).
Our world renowned resident seminar series and Plastic Surgery School thanks to the efforts of Dr. Kyle Wanzel.
The first Hugh G. Thomson Humanitarian Award recipient: Dr. Karen Cross. This award was established by the Division of Plastic & Reconstructive Surgery at the Hospital for Sick Children where Dr. T worked for 43 years. It is designed to honor his values of collegiality, honesty, generosity, mentorship and humanitarianism by giving an award in his name to the trainee in Plastic and Reconstructive Surgery who best emulates his philosophies.
Resident Research Day 2013 with UofT alumnus Dr. Mike Neumeister as this year's Hoyle Campbell Tau Omicron Visiting Professor.
Recruitment of Dr. Karen Wong to the Division of Plastic and Reconstructive Surgery at the Hospital for Sick Children.
Dr. Joel Fish and the entire Pediatric Burn Program team at the Hospital for Sick Children for their success in becoming the first Pediatric Burn Program in Canada to receive full accreditation by the American Burn Association.
Third Annual Breast Reconstruction Awareness (BRA) Day Evening of Education and Empowerment initiated by Dr. Mitch Brown in October.
And finally, our own Dr. Ron Zuker who was honored with a "Triple Crown" of awards recently during a visit to Durban, South Africa at the invitation of The Colleges of Medicine of South Africa. Ron has become an icon of Canadian Plastic Surgery and a divisional treasure…
(Sorry – that is 12 but who cares?)
And as always, many many thanks to Kathy Pavlovic for holding things together…
The year ahead? We have a lot to look forward to…starting with a makeover for our divisional website! Financial stability is also high on my priority list. Faculty development and re-evaluation of our residency training program and alumni engagement follow. And to make up for the slightly depressing opening quotes, here are some more of my favorites. Happy New Year everyone and I hope that 2014 will be a healthy and happy one for you all.
"Optimism is a strategy for making a better future. Because unless you believe that the future can be better, you are unlikely to step up and take responsibility for making it so."
― Noam Chomsky
"Choose to be optimistic, it feels better."
― Dalai Lama XIV
Members of the Division attended a unique CME event on November 22, 2013 at the Summerhill branch of the LCBO. Having free run of the place, we were educated about the history of the old Toronto train station north and its ghosts before sitting down to a tour de force of gastronomic delights with wine and cheese pairings. For those of you who missed it or were on call, we will be making this a yearly event in the divisional social calendar, so stay tuned.
Congratulations to Dr. John Semple for his recent publication in the Annals of Surgical Oncology. Representing the University of Toronto, John was the lead author on a paper entitled International Rates of Breast Reconstruction After Prophylactic Mastectomy in BRCA1 and BRCA2 Mutation Carriers Ann Surg Oncol. 2013 Nov;20(12):3817-22. (co-authors Metcalfe KA, Lynch HT, Kim-Sing C, Senter L, Pal T, Ainsworth P, Lubinski J, Tung N, Eng C, Gilchrist D, Blum J, Neuhausen SL, Singer CF, Ghadirian P, Sun P, Narod SA). This work represented a multi-disciplinary effort from an international group " The Hereditary Breast Cancer Clinical Study Group" with contributions from 8 different countries. Furthermore, it was accepted without revision (almost unheard of for this journal).
The Division of Plastic and Reconstructive Surgery was delighted to host Dr. Faith Muchemwa for the past 5 months and was sorry to see her return to her native land, Zimbabwe. Faith was sponsored by the AK Prakash Foundation that is dedicated to furthering medical education for physicians from countries in need. Faith was selected as she is the first Plastic Surgeon to be trained in Zimbabwe.  As a Prakash Scholar, Faith was sponsored to visit the University of Toronto and participate in clinical activities, educational opportunities and most importantly, establish key linkages to members of the division. The Prakash Foundation will be sponsoring 2 General Surgeons from Ethiopia later this year. I have attached Faith's report for those of you who are interested.
A remarkable story that transpired over many years. From former patient to co-author! Johanna Ponnuthurai is an undergraduate student in Health Sciences at the University of Ottawa who recently completed a summer research internship with Emily Ho and Dr. Howard Clarke at the Hospital for Sick Children. She was delighted to share her first publication with her former OT and surgeon. Congratulations to Johanna!
Kudos to Ryan Austin (PGY3) and Homan Cheng (PGY4) for their superlative effort for Christmas rounds at TGH… who knew they were such auteurs? Here is the link…
https://www.dropbox.com/s/gqnh98zxnon8vmz/Look%20Around%20TGH.mp4
And finally, a recent batch of papers from members of our division, congratulations to all the authors!
Fattah AY, Ravichandiran K, Zuker RM, Agur AM.
A three-dimensional study of the musculotendinous and neurovascular architecture of the gracilis muscle: application to functional muscle transfer. J Plast Reconstr Aesthet Surg. 2013 Sep;66(9):1230-7. doi: 10.1016/j.bjps.2013.05.012.
Dorafshar AH, Borsuk DE, Bojovic B, Brown EN, Manktelow RT, Zuker RM, Rodriguez ED, Redett RJ.
Surface anatomy of the middle division of the facial nerve: Zuker's point.
Plast Reconstr Surg. 2013 Feb;131(2):253-7
Kemp SW, Phua PD, Stanoulis KN, Wood MD, Liu EH, Gordon T, Borschel GH.
Functional recovery following peripheral nerve injury in the transgenic Thy1-GFP rat.
J Peripher Nerv Syst. 2013 Sep;18(3):220-31.
Murphy BD, Zuker RM, Borschel GH.
Vascularized composite allotransplantation: an update on medical and surgical progress and remaining challenges.
J Plast Reconstr Aesthet Surg. 2013 Nov;66(11):1449-55. doi: 10.1016/j.bjps.2013.06.037. Epub 2013 Jul 16. Review.
Khechoyan DY, Saber NR, Burge J, Fattah A, Drake J, Forrest CR, Phillips JH.
Surgical outcomes in craniosynostosis reconstruction: The use of prefabricated templates in cranial vault remodeling. J Plast Reconstr Aesthet Surg. 2013 Sep 17. pii: S1748-6815(13)00517-2.
Fattah A, Khechoyan D, Phillips JH, Forrest CR.
Paediatric craniofacial fibrous dysplasia: the Hospital for Sick Children experience and treatment philosophy.
J Plast Reconstr Aesthet Surg. 2013 Oct;66(10):1346-55.
Wong KW, Forrest CR, Goodacre TE, Klassen AF.
Measuring outcomes in craniofacial and pediatric plastic surgery.
Clin Plast Surg. 2013 Apr;40(2):305-12
Cahoon NJ, Naparus A, Ashrafpour H, Hofer SO, Huang N, Lipa JE, Forrest CR, Pang CY.
Pharmacologic prophylactic treatment for perioperative protection of skeletal muscle from ischemia-reperfusion injury in reconstructive surgery.
Plast Reconstr Surg. 2013 Mar;131(3):473-85
Forrest CR, Hopper RA.
Craniofacial syndromes and surgery. Plast Reconstr Surg. 2013 Jan;131(1):86e-109e. doi: 10.1097/PRS.0b013e318272c12b. Review.
Wong KR, Phillips JH, Steinbacher DM.
Bilateral bookend pericranial flaps. Plast Reconstr Surg. 2013 Feb;131(2):295e-296e. doi: 10.1097/PRS.0b013e318278d815.
Arad E, Li Z, Sitzman TJ, Agur AM, Clarke HM.
Anatomic Sites of Origin of the Suprascapular and Lateral Pectoral Nerves within the Brachial Plexus.
Plast Reconstr Surg. 2014 Jan;133(1):20e-7e
Ho ES, Ponnuthurai J, Clarke HM.
The incidence of idiopathic musculoskeletal pain in children with upper extremity injuries. J Hand Ther. 2013 Oct 27. pii: S0894-1130(13)00157-9. doi: 10.1016/j.jht.2013.10.002.
Arad E, Stephens D, Curtis CG, Clarke HM.
Botulinum toxin for the treatment of motor imbalance in obstetrical brachial plexus palsy.
Plast Reconstr Surg. 2013 Jun;131(6):1307-15
Mahoney MH, Swan MC, Fisher DM.
Prospective analysis of presurgical risk factors for outcomes in primary palatoplasty. Plast Reconstr Surg. 2013 Jul;132(1):165-71.
Alonso N, Fisher DM, Bermudez L, da Silva Freitas R.
Cleft lip and palate treatment.
Plast Surg Int. 2013;2013:372751. doi: 10.1155/2013/372751.
Sitzman TJ, Fisher DM.
Presurgical unilateral cleft lip anthropometrics: incidence of vermilion height asymmetry. Plast Reconstr Surg. 2013 Jun;131(6):935e-937e.
Zhong T, Ojha M, Bagher S, Butler K, O'Neill AC, McCluskey SA, Clarke H, Hofer SO, Srinivas C.
Transversus abdominis plane block following abdominally based breast reconstruction: study protocol for a randomized controlled trial.
Trials. 2013 Dec 10;14:424.
Zhong T, Hu J, Bagher S, O'Neill AC, Beber B, Hofer SO, Metcalfe KA.
Decision regret following breast reconstruction: the role of self-efficacy and satisfaction with information in the preoperative period. Plast Reconstr Surg. 2013 Nov;132(5):724e-734e.
Zhong T, Bagher S, Jindal K, Zeng D, O'Neill AC, Macadam S, Butler K, Hofer SO, Pusic A, Metcalfe KA.
The influence of dispositional optimism on decision regret to undergo major breast reconstructive surgery. J Surg Oncol. 2013 Sep 16. doi: 10.1002/jso.23437.
Townley WA, Mah E, O'Neill AC, Wunder JS, Ferguson PC, Zhong T, Hofer SO.
Reconstruction of sarcoma defects following pre-operative radiation: free tissue transfer is safe and reliable. J Plast Reconstr Aesthet Surg. 2013 Nov;66(11):1575-9. doi: 10.1016/j.bjps.2013.06.029.
Platt J, Baxter N, Jones J, Metcalfe K, Causarano N, Hofer SO, O'Neill A, Cheng T, Starenkyj E, Zhong T.
Pre-consultation educational group intervention to improve shared decision-making in postmastectomy breast reconstruction: study protocol for a pilot randomized controlled trial.
Trials. 2013 Jul 6;14:199. doi: 10.1186/1745-6215-14-199.
Zhong T, McCarthy CM, Price AN, Pusic AL.
Evidence-based medicine: breast reconstruction.
Plast Reconstr Surg. 2013 Dec;132(6):1658-69.
Zhong T, Temple-Oberle C, Hofer S, Beber B, Semple J, Brown M, Macadam S, Lennox P, Panzarella T, McCarthy C, Baxter N.
The Multi Centre Canadian Acellular Dermal Matrix Trial (MCCAT): study protocol for a randomized controlled trial in implant-based breast reconstruction. Trials. 2013 Oct 28;14(1):356.
Niazi AU, El-Beheiry H, Ramlogan R, Graham B, von Schroeder HP, Tumber PS.
Continuous infraclavicular brachial plexus blockade: effect on survival of replanted digits.
Hand Surg. 2013;18(3):325-30.
Weyand B, Kasper C, Israelowitz M, Gille C, von Schroeder HP, Reimers K, Vogt PM.
A differential pressure laminar flow reactor supports osteogenic differentiation and extracellular matrix formation from adipose mesenchymal stem cells in a macroporous ceramic scaffold.
Biores Open Access. 2012 Jun;1(3):145-56.
Weyand B, von Schroeder HP.
Altered VEGF-A and receptor mRNA expression profiles, and identification of VEGF144 in foetal rat calvaria cells, in coculture with microvascular endothelial cells. Cell Biol Int. 2013 Jul;37(7):713-24.
Anastakis DJ.
The anatomy of reputation: an Association for Surgical Education priority.
Am J Surg. 2013 Oct 23. pii: S0002-9610(13)00606-5.
Novak CB, von der Heyde RL.
Evidence and techniques in rehabilitation following nerve injuries. Hand Clin. 2013 Aug;29(3):383-92.
Maloul A, Fialkov J, Wagner D, Whyne CM.
Characterization of craniofacial sutures using the finite element method. J Biomech. 2014 Jan 3;47(1):245-52. doi: 10.1016/j.jbiomech.2013.09.009.
Szwedowski TD, Fialkov J, Pakdel A, Whyne CM.
An optimized process flow for rapid segmentation of cortical bones of the craniofacial skeleton using the level-set method.
Dentomaxillofac Radiol. 2013;42(4):20120208
Maloul A, Fialkov J, Whyne CM.
Characterization of the bending strength of craniofacial sutures.
J Biomech. 2013 Mar 15;46(5):912-7. doi: 10.1016/j.jbiomech.2012.12.016.
Baltzer H, Binhammer PA.
Cost-effectiveness in the management of Dupuytren's contracture. A Canadian cost-utility analysis of current and future management strategies.
Bone Joint J. 2013 Aug;95-B(8):1094-100.
Lista F, Ahmad J.
Evidence-based medicine: augmentation mammaplasty.
Plast Reconstr Surg. 2013 Dec;132(6):1684-96.
Lista F, Tutino R, Khan A, Ahmad J.
Subglandular breast augmentation with textured, anatomic, cohesive silicone implants: a review of 440 consecutive patients.
Plast Reconstr Surg. 2013 Aug;132(2):295-303.
Chivers QJ, Ahmad J, Lista F, Warren RJ, Arkoubi AY, Mahabir RC, Murray KA, Islur A.
Cosmetic surgery training in Canadian plastic surgery residencies: are we training competent surgeons? Aesthet Surg J. 2013 Jan;33(1):160-5.
Ahmad J.
Discussion: a process for quantifying aesthetic and functional breast surgery: I. Quantifying optimal nipple position and vertical and horizontal skin excess for mastopexy and breast reduction. Plast Reconstr Surg. 2013 Jul;132(1):74-5.
Davidge KM, Brown M, Morgan P, Semple JL.
Processes of care in autogenous breast reconstruction with pedicled TRAM flaps: expediting postoperative discharge in an ambulatory setting. Plast Reconstr Surg. 2013 Sep;132(3):339e-44e.
Davidge KM, Yee A, Kahn LC, Mackinnon SE.
Median to radial nerve transfers for restoration of wrist, finger, and thumb extension. J Hand Surg Am. 2013 Sep;38(9):1812-27.
Zieske L, Ebersole GC, Davidge K, Fox I, Mackinnon SE.
Revision carpal tunnel surgery: a 10-year review of intraoperative findings and outcomes.
J Hand Surg Am. 2013 Aug;38(8):1530-9
Jeschke MG, Pinto R, Herndon DN, Finnerty CC, Kraft R.
Hypoglycemia Is Associated With Increased Postburn Morbidity and Mortality in Pediatric Patients.
Crit Care Med. 2013 Dec 23.
Amini-Nik S, Jeschke MG.
What's new in Shock? December 2013.
Shock. 2013 Dec;40(6):441-3.
Jeschke MG, Shahrokhi S, Finnerty CC, Branski LK, Dibildox M; and The ABA Organization & Delivery of Burn Care Committee.
Wound Coverage Technologies in Burn Care: Established Techniques. J Burn Care Res. 2013 May 31.
Kraft R, Herndon DN, Mlcak RP, Finnerty CC, Cox RA, Williams FN, Jeschke MG.
Bacterial respiratory tract infections are promoted by systemic hyperglycemia after severe burn injury in pediatric patients. Burns. 2013 Sep 25. pii: S0305-4179(13)00229-5. doi: 10.1016/j.burns.2013.07.007
Jeschke MG, Herndon DN.
Burns in children: standard and new treatments.
Lancet. 2013 Sep 10. pii: S0140-6736(13)61093-4
Happy 2014 everyone!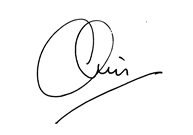 Christopher R. Forrest, MD, MSc, FRCSC, FACS
Chief, Plastic & Reconstructive Surgery, The Hospital for Sick Children
Medical Director, HSC Centre for Craniofacial Care and Research
Chair and Professor, Division of Plastic & Reconstructive Surgery
Department of Surgery, Faculty of Medicine
University of Toronto
Share This Story