I am pleased to announce the appointment of Dr. Greg Borschel (HSC) as the new Research Director of the Division of Plastic and Reconstructive Surgery. Greg is well suited to manage this division portfolio given his record of success in the research world in terms of mentorship, surgeon-scientist trainees, peer-reviewed grants and innovations in the research world. Thank-you to Greg for taking on this important and essential role.
I am indebted to the tireless efforts of Dr. Joel Fish who has done a phenomenal job over the past 8 years as the Division Research Director. Joel's efforts have transformed the annual resident research day to a world-class event which highlights the high quality of research performed by the residents of the division. His personal interest in ensuring the success of each of the residents in their projects is a touch of class. Thank-you to Joel for elevating the bar to a new standard.
For the last few years, the Division M&M rounds have rested in the very capable hands of Dr. Peter Bray (UHN) and I would like to take this moment to thank him for his efforts and dedication. These rounds are an integral component to both education and also Quality Improvement as well as a significant opportunity for the senior residents to practice their positions on the "hot seat".
I am pleased to announce that commencing in September, Dr. Karen Wong (HSC) will be taking over the reins and coordinating the Division City-Wide M&M conferences. Quality Improvement has become a buzz-word within the Department of Surgery and recently a new departmental QI group has been formed and chaired by Dr. Robin MacLeod. Dr. Karen Wong is the divisional representative that sits on the committee and I look forward to Karen applying some of the philosophies of QI to our M&Ms. Thanks again to Peter and welcome Karen.
 
Division of Plastic & Reconstructive Surgery
I am also very pleased to announce that the new division website has gone live as of 12:01 am Friday 13th, June 2014. I hope that you will take the opportunity to explore and see the new face of our division: https://www.uoftplasticsurgery.ca/ Take a look at our new webpage for the Resident Aesthetic Clinic as well:  https://www.uoftplasticsurgery.ca/clinic/
Please keep in mind that the new website is in its infancy and I apologize for any growing pains. If you see errors or would like to make any amendments, do not hesitate to let me know. In order to access your member account and profile, click "My Account" at the top right of any page.
I would like to thank all that contributed to its content and development. I would especially like to acknowledge the hard work done by our own Kathy Pavlovic who has worked tirelessly over the past several months to see this come to fruition. Thank-you to Helen Rubtsov of AR Studio for doing such a great job in design and execution and being such a pleasure to work with.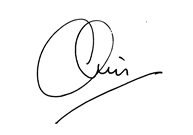 Christopher R. Forrest, MD, MSc, FRCSC, FACS
Chief, Plastic & Reconstructive Surgery, The Hospital for Sick Children
Medical Director, HSC Centre for Craniofacial Care and Research
Chair and Professor, Division of Plastic & Reconstructive Surgery
Department of Surgery, Faculty of Medicine
University of Toronto
Share This Story